Music
Music will play an important role in the Congress as it did in the Art Deco era. Montreal was a mecca for jazz musicians who played in the many night clubs, now only a memory. Andrew Homzy, Professor of Music at Concordia University, has put together a selection of music, some with his original arrangements that will attempt to re-create the ambiance of the era. Here are some of the songs including the theme song, Hello Montreal,
——————————————————-
Credits for these performances:
Patti Payne and The Boys From Murray's.
Researched, arranged and produced by Andrew Homzy
Patti Payne - vocals
Peter Purich - violin
Denis Chang - guitar
Dominic Desjardins - banjo
Paul Van Dyk - contrebasse
Recorded at Boutique de son, Pointe Claire
George Doxas - recording engineer
——————————————————-
One of the things that gave Montreal its old sparkle was the fact that you could get a drink there when the States was dry. Montreal was the largest wet city on the East Coast during Prohibition (1920 to 1933). In 1928, the Irving Berlin Co. published a song that summed up the feelings of parched Americanos in search of a good time.
Ingersoll was the name of a line of inexpensive pocket watches which were known as highly reliable, even though they only cost a dollar.
Phosphate drinks were sort of like the French "diabolo", i.e. a flavoured syrup mixed with fizzy water, what today we would call a soft drink.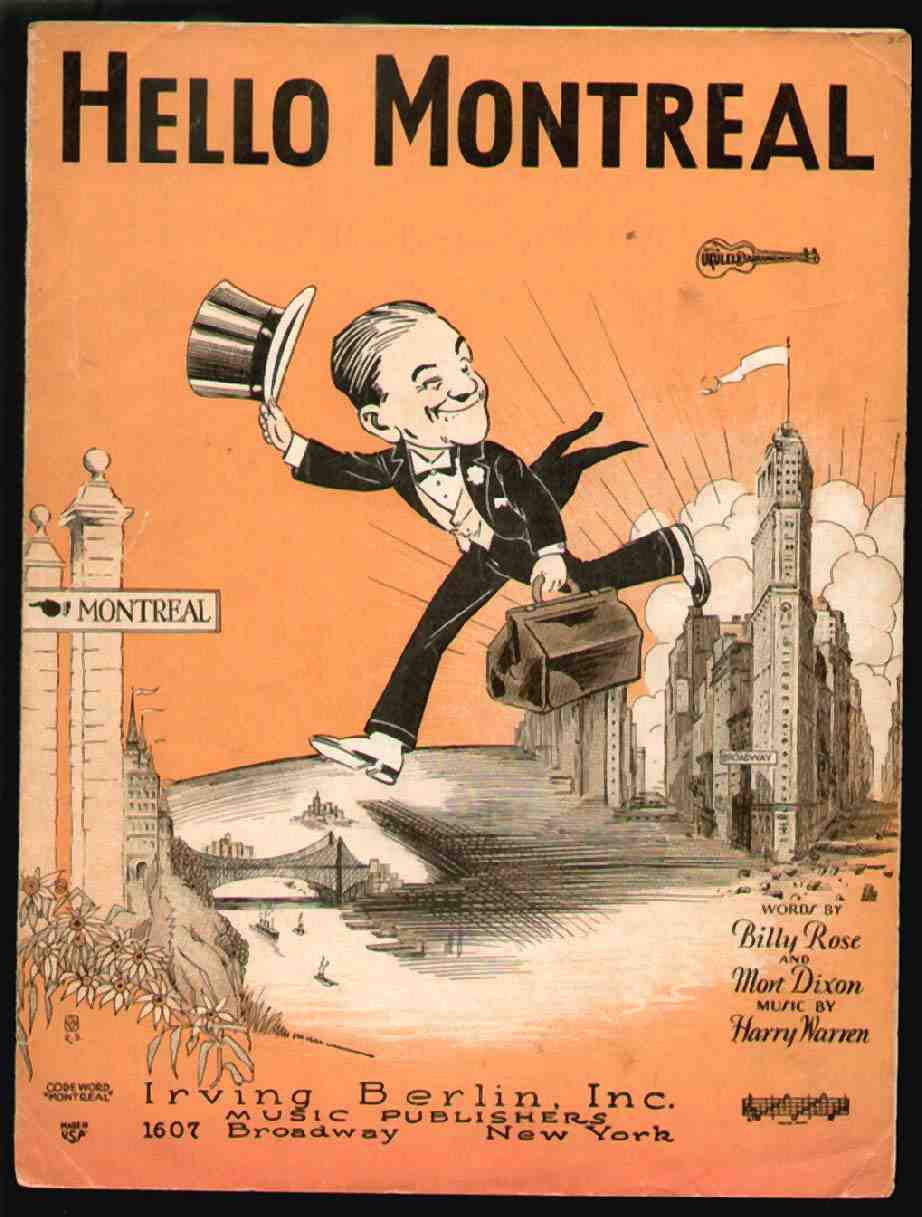 (sh) Speak easy, (sh) Speak easy,
Said Johnny Brown; I'm gonna leave this town, Ev'rything is closing down.
(sh) Speak easy, (sh) Speak easy,
And tell the bunch: I won't go East, won't go West, Got a diff'rent hunch:
I'll be leaving in the summer, And I won't come back till fall,
Goodbye Broadway, hello Montreal.
With a stein upon the table, I'll be laughing at you all,
Goodbye Broadway, hello Montreal. I'm on my way, I'm on my way,
And I'll make whoop-whoop whoopee night and day.
Anytime my wifey wants me,
You can tell her where to call,
Goodbye Broadway, hello Montreal.
Yamo, yamo, I think I want a drink; Yamo, yamo, there's water in the sink.
The sink, the sink, the sink, the sink, the sink;
The good old rusty sink;
But who the heck wants water when you're dying for a drink?
Oh, "We Won't Get Home Till Morning" Is the best song after all,
Goodbye Broadway, hello Montreal.
There'll be no more Orange Phosphates,
You can bet your Ingersoll,
Goodbye Broadway, hello Montreal.
That old tin pail, that old tin pail,
Was never meant to carry ginger ale.
There'll be photographs of brew'ries
All around my bedroom wall,
Goodbye Broadway, hello Montreal.
(sh) Speak easy, (sh) Speak easy,
Asked Tommy Gray; I must know right away,
Are the gals up there okay?
(sh) Speak easy, (sh) Speak easy,
Said Johnny Brown;
You ain't been hugged, ain't been kissed,
Till you've hit that town: