A note from Ross Sauve.......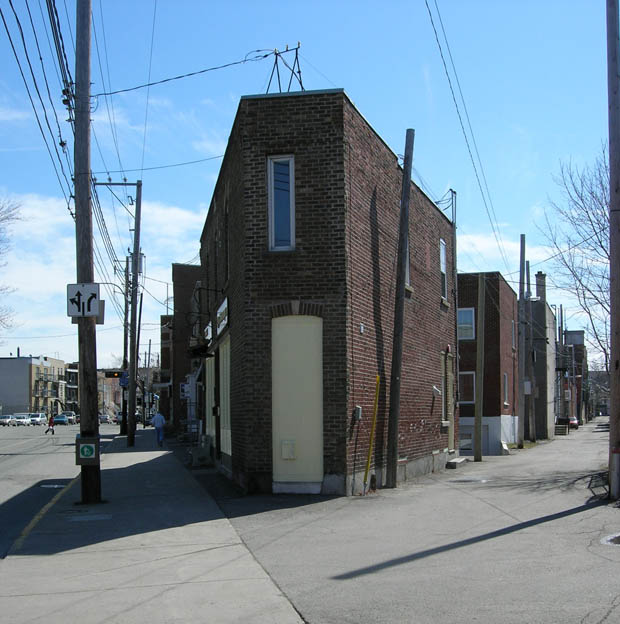 This is the home that my family lived in.  My parents owned the store.  My sister, Faye and I spent a lot of time working in it during our teen years.  We lived in the small flat above the store until 1977 when my parents sold the property.   The name of the store was DIAMOND HANDY STORE.  At an earlier time, there was a Diamond Taxi Stand nearby and hence the store name.  My parents were often called Mr.and Mrs. Diamond and my sister and I, the "diamond kids".  Rather than confuse customers and tell them our name was SAUVE we allowed the name DIAMOND to stick!  The address is 3539 & 3543 Lasalle Blvd.  It is between Strathmore and Regina.  The lane that cuts behind the property is Victor Lane.  The building definitely has a triangular-shaped floor plan!    The area that draws so much attention is actually a bedroom with three walls!  My parents bought the building and store in 1955 from my father's older brother, HECTOR SAUVÉ.  My Uncle Hector and Aunt Dorothy owned the business for 10 years prior to my parents owning it.  After my uncle and aunt sold the store to my parents in 1955 they moved to Santa Ana, California.  They had one son, RAYMOND SAUVÉ who went to the school just a stones throw away on Rushbrooke Street.
   When my uncle bought DIAMOND HANDY STORE, his family was not living in the flat over the store.  They lived in the duplex on Rushbrooke Street  owned by  Mr. and Mrs. Hendy.  I have seen their son's name, JIMMY HENDY, mentioned a few times in Verdun Connections.  Jimmy Hendy would probably be in his 60's today and the last we heard, he was out west.
   My uncle and aunt, HECTOR AND DOROTHY SAUVÉ are 88 and 89 years old now and are living in a retirement community in Laguna Hills, California. 
   My cousin, RAYMOND SAUVÉ, passed away about 10 years ago in his early 50's.  He was twice-married and enjoyed a great life from Montreal to Los Angeles, to Washington, DC, St. John, USVI to finally Washington state.