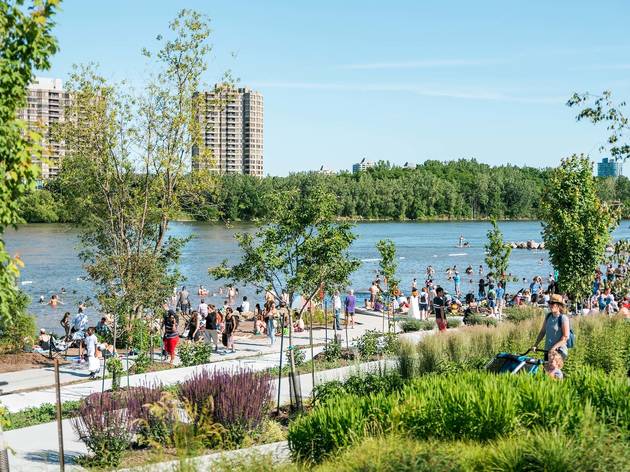 Photograph: Mathieu B. Morin
When the pandemic hit, this southern Montreal arrondissement was four days away from rolling out the tenth edition of one of its biggest parties: the urban lumberjack and sugar-shack festival Cabane Panache et Bois Rond. Instead, large banners announcing the event were left to dangle above the cold, empty streets. But when the time came for locals here to dust themselves off and go out again? Les Verdunoises did it with a massive display of local pride, making the most of the place they call home.
Crowds flocked as the main thoroughfare of Wellington Street was pedestrianised, allowing comfy perusals of restaurants' long, street-side patios and independent retailers' giant, summer-long outdoor sales. The opening of Verdun's new urban beach made it a destination for people from across the city to escape blistering heatwaves. If a new business arrived, it was embraced with open arms – and, amazingly, more opened than closed. The street's non-profit economic development organisation invited local musicians to play hot jazz and performers to put on dazzling marionette dances by day and by night. Even the street's public parking garage found space on its top floor for a responsible open-air party spot.
If it wasn't for masks, hand-sanitiser stations at every doorway and folks staying two metres apart from one another, a visitor would never have guessed that a pandemic was happening in the first place. Despite renewed lockdown restrictions hitting the city in October, Verdun's continued rallying cry of local flavours, sights and sounds in the face of uncertainty demonstrates how Montreal – and cities everywhere – can and will get through this.—Jean-Pierre Karwacki, Time Out Montreal

Discover the neighbourhood:
📍The thrift shops, outdoor film clubs and craft beer bars we can't get enough of